I live in Madrid since November 2007. I feel quite at home here (Madrileña), although there are dozens of other Spanish cities where I could spend my life.
In Madrid live 4,900,000 people and 10% is Romanian! Also, there are lots of different nationalities living here: Moroccans, Peruvians, Bolivians, Argentinians, Columbians, Ecuadorians, Cubanians, Dominicans, Brazilians, etc.
(Templo de Debod, Madrid
)
People are quite nice here, the language is easy to learn ( do not even think that Spaniards speak English ok, they simply are glad to help you, but probably is easier for them to give informations in Castellano).
(Plaza de Castilla,
Madrid)
There are lots of places to visit here, most tourists see the famous galleries of Museo del Prado and Museo de Reina Sofia , plus Museo Thyssen-Bornemisza (art), then Retiro Park it´s a must, especially in summer, when it tends to be so damn hot in Madrid, that all the parks are flooded by people. I think our Herastrau Park is 4 times bigger than Retiro.
Probably one of my favorite places is Casa de Campo (Park), which is so big that it houses the Zoo, The Teleferico and the Amusement Park too.
Cibeles
is an emblematic and particularly beautiful fountain and square in the centre of Madrid.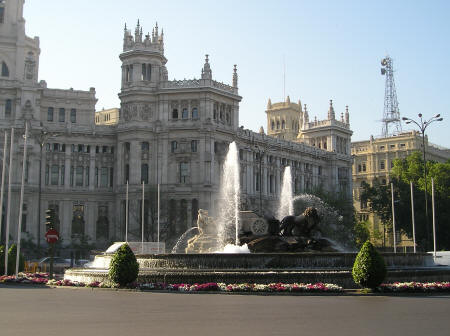 (Plaza Cibeles, Madrid)
The Plaza de Cibeles is one of Madrid's most beautiful city squares. The ornate white building on the south side of the plaza is the Palacio de Comunicaciones( Where in each february takes place the Madrid Fashion Week). In the centre of the plaza is a fountain with a statue of Cybele, the Roman goddess. The Plaza de Cibeles is one of many tourist attractions in the Del Prado District of Madrid.
One of the places that is the most visited and also that it always animated is Plaza Mayor (Central Square), in Winter there is a Christmas Fair well known all over Europe.
I recommend that Spain´s capital should be visited anytime, except in August, when the temperature reaches more than 40ºC, it seems that most of the foreigners do come here, right in the middle of this month, probably because people know that Spaniards have holidays in August, most of them going away, so the city is less populated and is actually nicer.
I am not sure for how long I will still live here, for the moment is ok, I really miss my Bucharest sometimes, but then, I go home quite often, so there shouldn´t be any problem here, for me.
What matters most is that I have some few, but very loving persons in Madrid, which makes it a lot easier for me hanging around.
Que Viva España!
Con cariño,
Stefana.